Self Represented Parties - Means to File Pleadings
For Debtors
Welcome to the Debtors section of the Court's website. Here you will find information concerning the bankruptcy process and business before the Court.
A Debtor in Bankruptcy is ...
A person or organization that has borrowed money from another party and

Is unable to repay the money owed when it becomes due and has filed a Petition in Bankruptcy for relief.
Bankruptcy has long term financial and legal consequences and is a complicated process. Hiring an attorney who is experienced and capable is strongly recommended.
If you do not have an attorney, visit this page for information about free or reduced cost legal services as well as other helpful resources for proceeding without an attorney.
See also our Debtor without an Attorney page for additional resources.
Notice to Individual Consumer Debtors - Review this form for a definition of the different bankruptcy chapters.
National Student Loan Data System
The National Student Loan Data System (NSLDS) is the U.S. Department of Education's (ED's) central database for student aid. NSLDS receives data from schools, guaranty agencies, the Direct Loan program, and other Department of ED programs. NSLDS Student Access provides a centralized, integrated view of Title IV loans and grants so that recipients of Title IV Aid can access and inquire about their Title IV loans and/or grant data.
Free or Low Cost Bankruptcy Assistance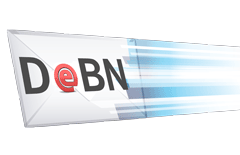 Debtor Electronic Bankruptcy Noticing

To receive orders and court-generated notices by email instead of paper copies
through the U.S. mail, use this FAST, FREE, and CONVENIENT online tool and go paperless.
Obtaining Social Security Information
The Social Security Administration has stopped providing benefit verification letters in their local offices. Customers need to either obtain these letters on-line or by calling the SSA toll free number at 1-800-772-1213 and requesting a letter by mail.
In addition, the Social Security Administration no longer provides SSN printouts. If you need a replacement card, complete an application [Form SS-5] and provide original, required documention. Take or mail those documents to your local Social Security office or card center. For additional information, visit www.socialsecurity.gov/ssnumber or call 1-800-772-1213.