Certified Copies of Bankruptcy Documents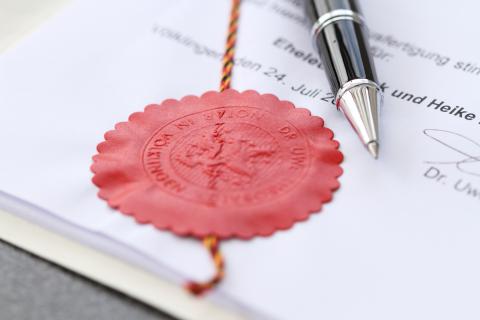 Certified copies of bankruptcy documents can be obtained by calling the  Clerk's office at (401) 626-3100, ext. 0 or by mail request. In order to obtain a certified copy of a bankruptcy document, you must have a bankruptcy case number and the docket number of the document to be certified.
Bankruptcy case numbers can be obtained toll free through the Court's automated Voice Case Information System (VCIS) at (866) 222-8029 or from a public access terminal in the Bankruptcy Clerk's  office.  Docket numbers are located on the official court docket and can be obtained from a public access terminal in the Bankruptcy Clerk's office or through the Public Access to Court Electronic Records (PACER).  To sign up for a PACER account, register at http://www.pacer.gov(link is external).  
Photocopy fees and search of court record fees may apply.  Please refer to the Bankruptcy Court Fee Schedule Page for more information regarding photocopy fees, search of court records fees, and the Court's check acceptance policy.
All requests for certified bankruptcy documents sent by mail must include:



Bankruptcy or Adversary Proceeding case number




Debtor(s) name




Docket number of document(s) to be copied and certified




Daytime telephone number of the requesting party




A self-addressed, stamped return envelope of proper size and postage for the documents requested
Requesting parties will be contacted by phone once the Bankruptcy Court determines the total fees due. 
Visit the Court's Free Online Fee Payment Program page for information about how to electronically pay the applicable fee for a request for certified copy of court document.